My nails did not survive last night's shift at my retail job very well. We had to move some shelving units around and I ended up accidentally tearing two of them off. When I got home I had no choice but to cut them all very short...I am not a fan! I think having short fingernails like this makes my hands look very strange.
So I'm going to have to take a break from most of my swatching, I just don't want to show awesome polishes on not awesome nails. Plus, is it just me, or is it harder to paint short nails? I feel like there's just not as much area to work with, so it's much harder not to accidentally flood a cuticle.
I'm trying to look on the bright side, though, and am telling myself that this is a good chance to wear dark polishes that don't always look good on longer nails. Am I right? I've always sort of thought that dark colors look strange on long nails. I feel like your nails don't have to be THIS short, however, because they're just ridiculously short right now. (Can you tell I'm really sad about this?)
Anyway, today I'm wearing one of those nameless Urban Outfitters polishes that
I posted about here
. The formula on this one was great. Perfectly opaque in two coats, the brush was perfect, and I really love the square bottles, because I don't feel like I'm about to knock them over all the time. This is two coats over Orly Bonder basecoat with one coat of China Glaze Fast Forward topcoat.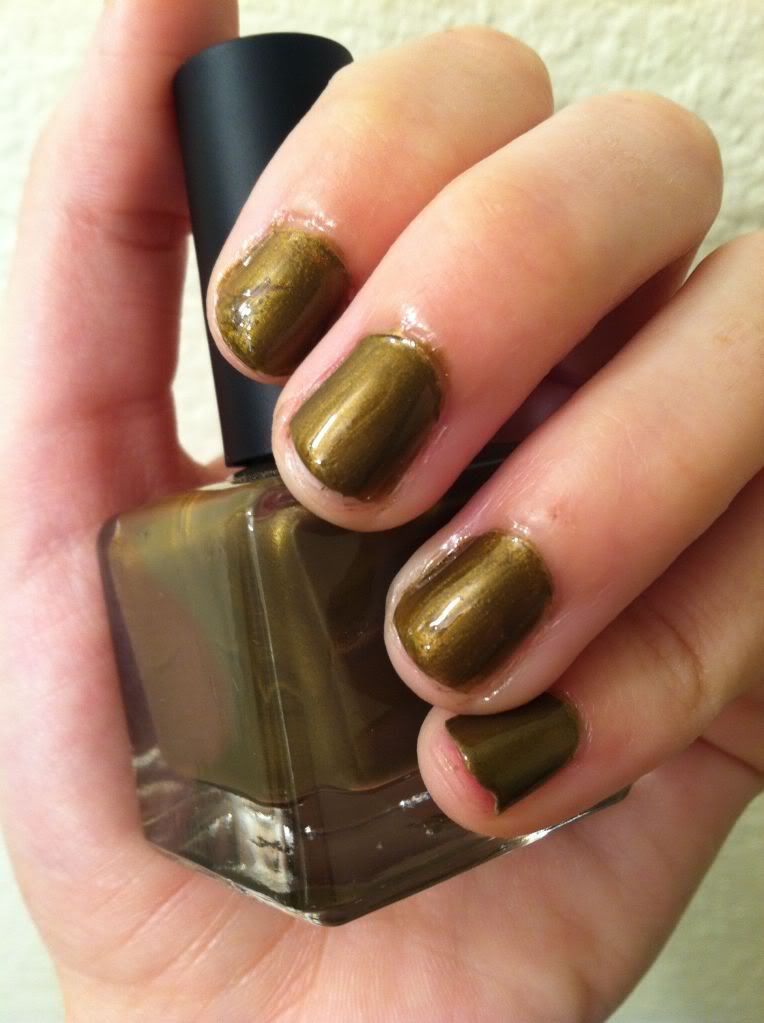 This one's a bit more olive green than it looks above, but it does sort of go back and forth between brown and green depending on the light. It's got a gorgeous gold shimmer running through it that really just makes the color happen for me. The only thing I could fault it on is that brushstrokes are visible even after two coats, but I think that's just the nature of some polishes.
Please excuse the oddness on my index finger, had a bit of a mishap with some topcoat. I'm not sure it's my favorite color on my nails, but I do love this one as a color. I'm also officially a fan of Urban Outfitters polishes!